Foxface Studios - Westside Interview
Foxface Studios salon in Saint Paul Westside interview with Block Portrait Studios. Foxface Studios is a family-owned salon serving the Westside of Saint Paul with hair, makeup, full body waxing, lash and brow services, and even micro-blading, served by a team of five independent artists. 
The owners Amanda and Mario opened Foxface salon in 2017.  Amanda was working in the same salon for almost ten years and was ready for a change and wanted more flexibility with her schedule.  At the time of opening the salon, they had a five-month-old and toddler at home. More time with her family is one of the best parts of owning her business.  
Mario has always been an artist of some type while also driving trucks. He did screen printing with the Electric Machete when they were open on Smith Ave. He had been injured and trying to find his next career when he found micro-blading, it was a great fit for the salon and allowed him to be artistic. Once he got his hours doing micro-blading he got his license and set up the studio upstairs of FoxFace. You can follow him. and see his work on Instagram! Also, follow their friend who made their logo!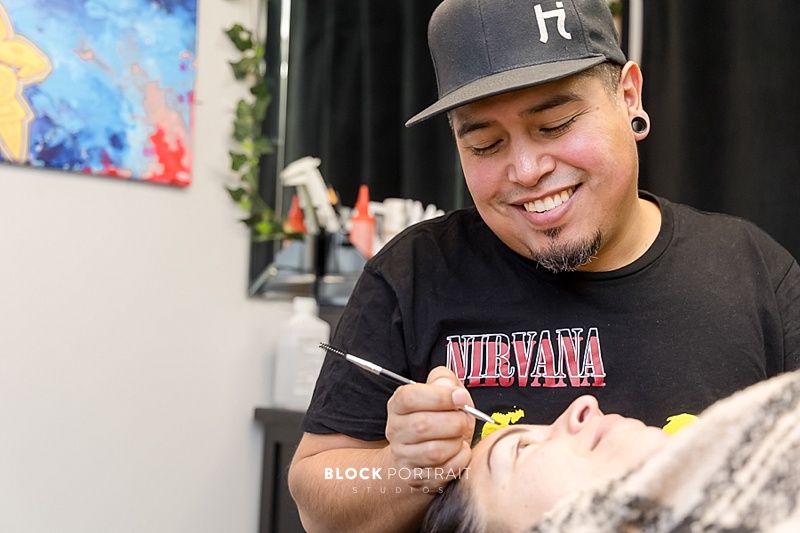 The last couple of years have been hard due to COVID-19. The Westside community rallied around their small business and kept patronage of them through all the changes. They have gotten to know the community well over the last five years in business. Their clients love the energy and the culture of the studio. They love serving clients on a high frequency that allows their clients to leave feeling uplifted and energized. Amanda and Mario have so much appreciation for the community that supports their dreams. We look forward to seeing all of FoxFace's future projects and building more connections within our community! Reach out to Foxface Studios salon in Saint Paul's Westside for all your beauty needs!